107.72 miles; 6 hrs, 23 minutes; 5,758 ft ascending, avg speed 16.9 mph; max speed 39.5 mph; 8,361 calories
We pulled out of Cottonwood at 7:00 AM to cool but clear skies. We rolled 15 miles to Sedona, and marveled at the beautiful red rock cliffs and formations surrounding town. We then proceeded north on route 89A to Flagstaff, going up Oak Creek Canyon for some serious climbing (almost to 7,000 feet). The first part of the climb rolls slowly but surely along Oak Creek, with beautiful vistas of the red rock formations but lots of traffic and no shoulders. Then you hit switchbacks where the real climbing happens.
After lunch in Flagstaff, we rode on part of the old Route 66 (felt like it had not been paved since it was originally built) to get east of town, then jumped on I-40. Between the massive tailwind and losing about 3,000 feet of elevation, we covered the 50 miles to Winslow between 25-35 mph---the closest I'll ever come to knowing what the Tour de France feels like! The journey to Winslow was only by marred by my first two flats on the trip--they came about 100 feet apart. The shoulder of I-40 was deceptive--looked clean, but was covered with tiny metallic debris that you couldn't even see to avoid. Everyone in the group seemed to suffer flats today. Upon arrival in Winslow, I sought out the famous corner so I could be photographed near the girl in the flatbed Ford slowing down to look at me. Winslow pretty much exists for the lyrics to a 1972 Eagles song...the rest of the town is pretty depressing. We did find a great restaurant, however, in the La Posada Hotel, that somehow survives in a poor little town.
Tomorrow is a 125+ mile day to Gallup, NM. Mostly on 1-40, hopefully the tailwinds will prevail again.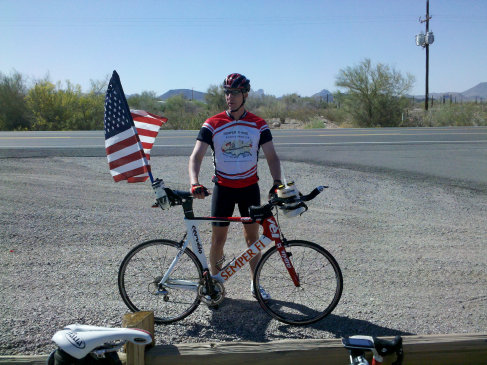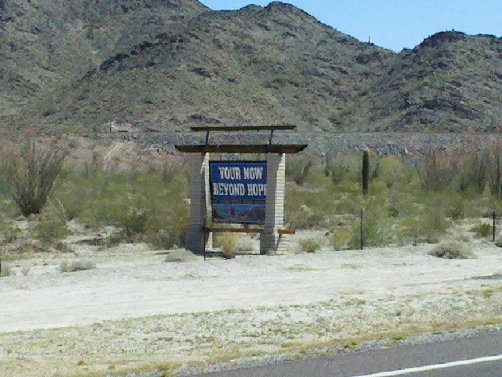 Sedona is best known for the beautiful red rock formations surrounding the town. We passed through on a sun-drenched early morning, and the scenery was spectacular.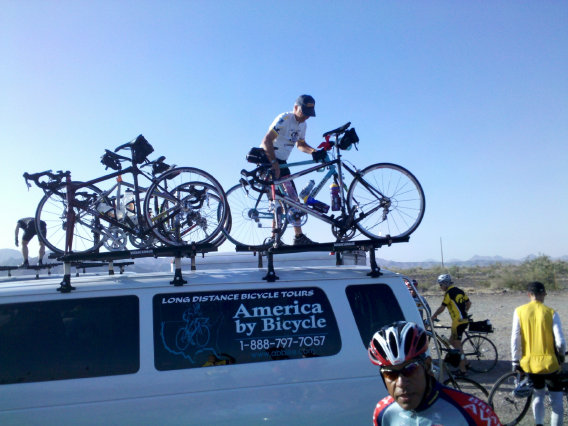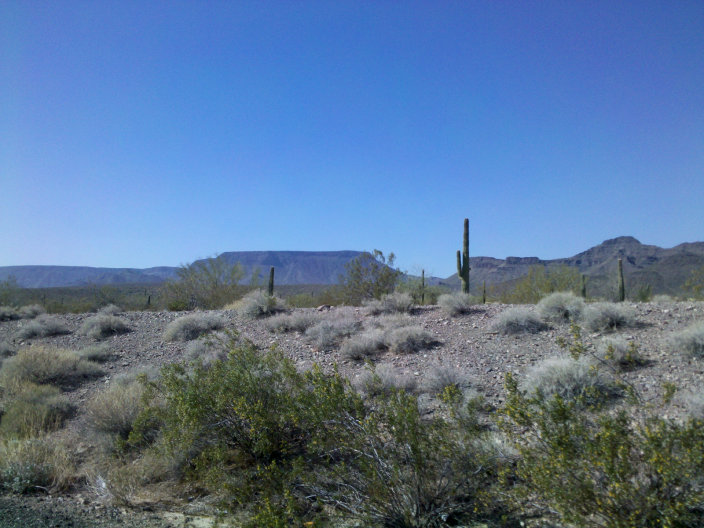 Route 89A from Sedona to Flagstaff climbs through Oak Creek Canyon, and at the end of the canyon the only way out is up a series of switchbacks which make for some beautiful views. Its nice to look down and see other cyclists struggling up where you've already been!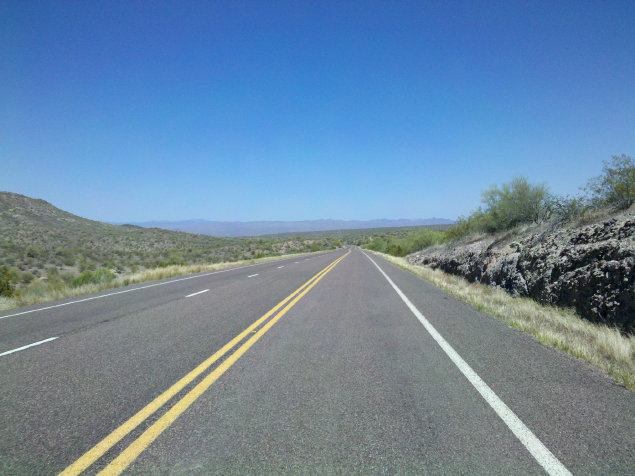 East of Flagstaff, the terrain changes radically...very flat, wide open spaces. This view is near the Meteor Crater monument.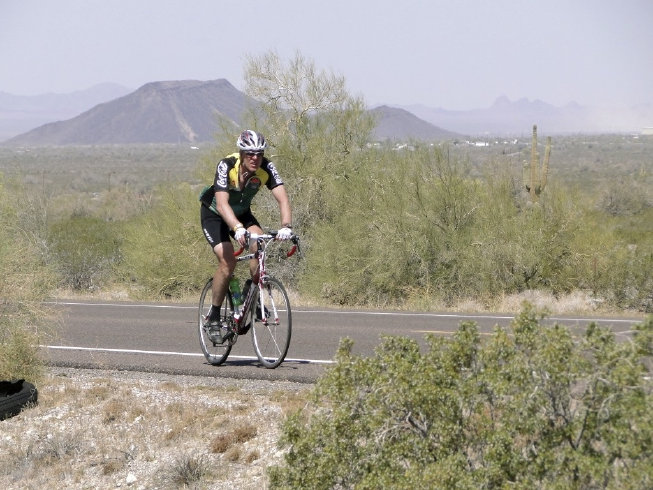 You can see a long ways in this part of Arizona. The San Francisco peaks shown are north of Flagstaff; this photo was taken about 40 miles away on the way to Winslow.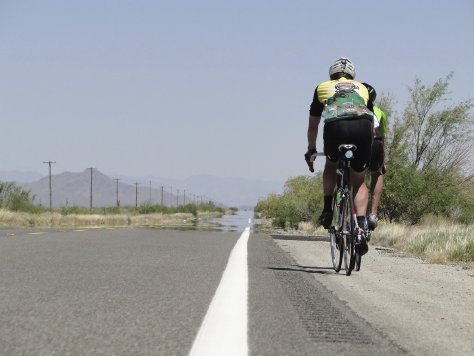 Tom Newlin, an attorney from Terre Haute, IN, provided moral support as I changed my first flat on the trip near Winslow. I got my second within 100 feet of this one. The shoulders of the interstates are covered with blown truck tire debris which plays havoc with bike tires. The next day, our group of 21 recorded 35 flats!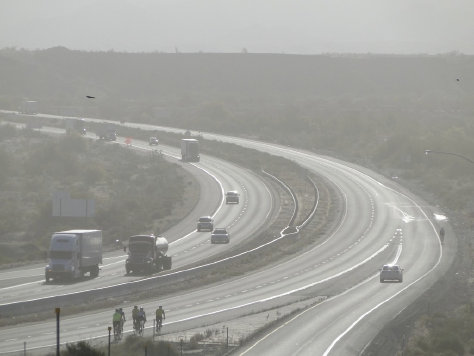 Below, Standin' on the Corner in Winslow Arizona. The Eagles' 1972 song seems about the only thing the town has going for it these days. Somehow, it does support a great hotel/restaurant in the La Posada, which was once a very popular grand hotel along the mainline of the Santa Fe Railroad (photo at bottom.)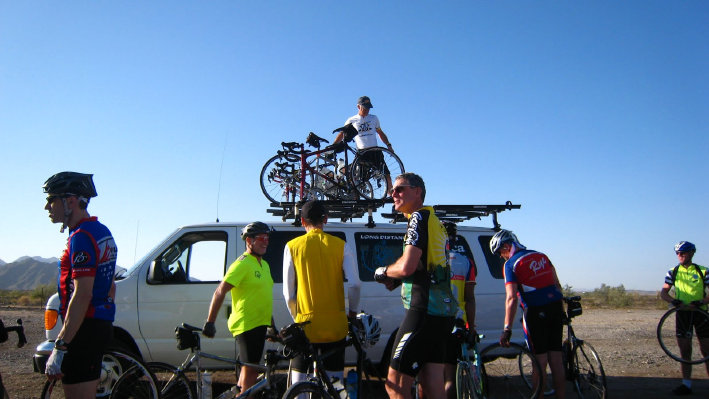 The La Posada